Thank you so much for your participation in the Schwarz Realty Scholarship Essay Contest! We are so excited to announce the winner of the scholarship.
Congratulations Isabel Friedl on the award of $2,020!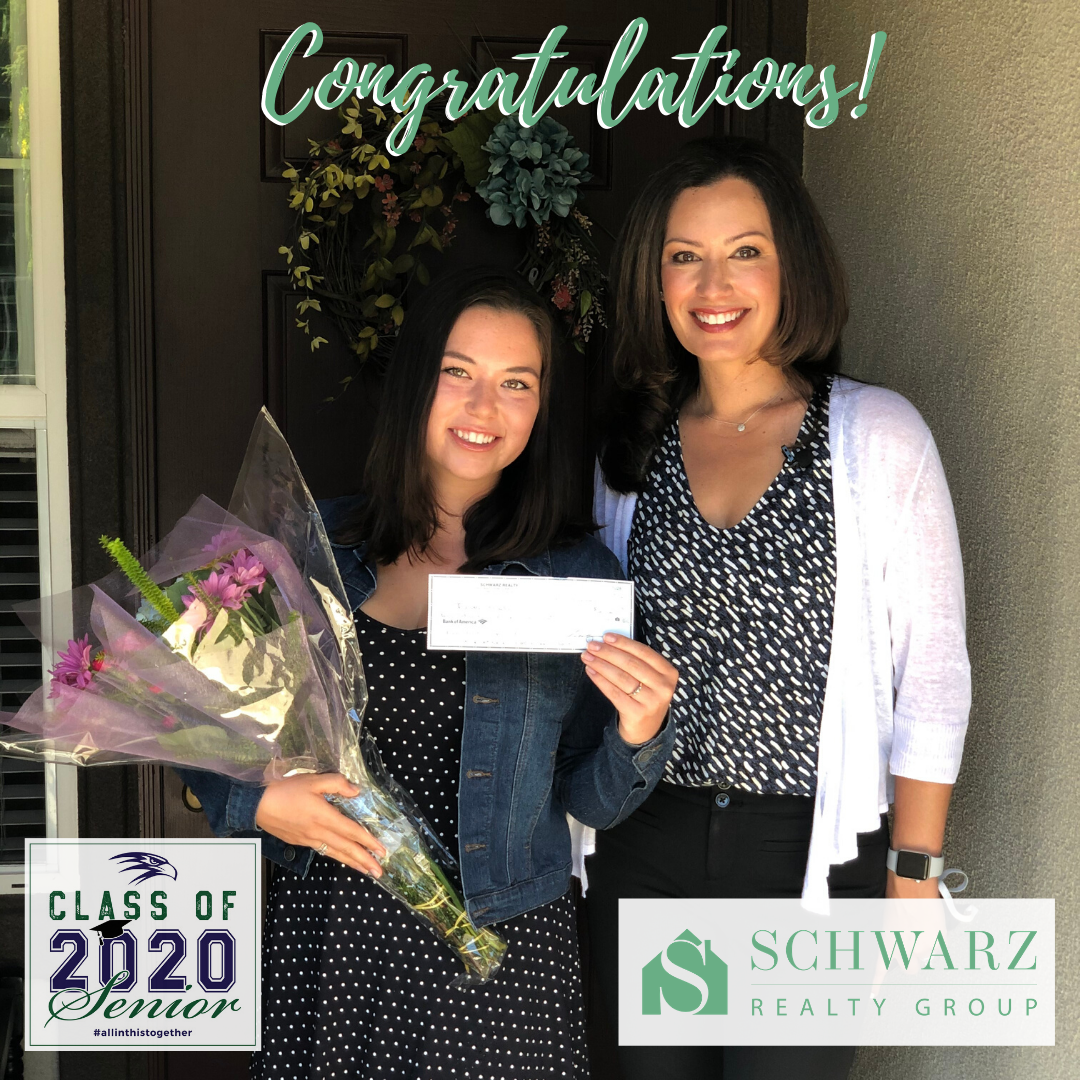 We were so pleased to have had so much participation on our first year of the scholarship program. All the essays were outstanding and such a pleasure to read.
I was extremely proud of the caliber of young adults we are raising here in our community! In fact, the volunteer judges thanked me for including them in the process because they found the essays so uplifting and positive about the students, our collective future and leaving the world in their capable hands.
This year's panel of judges included a USD college entrance essay reader, a PUSD district employee, and a local engineer who is also a part time college professor. Thank you for all your hard work and effort. It is inspiring to see the next generation giving so selflessly in the world.
Good luck to you on all your college endeavors.
We look forward to seeing what you all do in the future!
We hope to continue this tradition so please, let your friends and siblings know so they can look for this opportunity next year.
Schwarz Realty Group is committed to serving our clients and community in far reaching ways. From sponsoring local sports teams, local schools, and community events, we feel privileged to give back in ways that make our community distinctively stronger. To that end, we are excited to announce the 2020 Schwarz Realty Group Scholarship that will honor one graduating Del Norte senior with a $2,020 scholarship award that recognizes their achievements and supports their dreams of higher education.
To: Applicants for the Schwarz Realty Group Scholarship Award Our Scholarship Committee looks forward to reviewing your application, which can be found within the details below.
Any questions can be directed to Jackie Ninich at SchwarzRealtyGroup@gmail.com .The fully completed application must be submitted no later than June 15 th , 2020.
The winner will be announced Friday, July 3 rd , 2020. The winner will agree to be featured on the Schwarz Realty Group's community newsletter as well as in a short video announcement of the award presentation. No video interview will be required.
We wish you the best of luck in your pursuit of our scholarship award.
Sincerely,
Arianna Schwarz Lead Realtor Schwarz Realty Group
Schwarz Realty Group Scholarship Award
For: Del Norte 12th Grade High School Students

The Schwarz Realty Group local 4S Ranch Realtors is donating one scholarship this year to a Del Norte High School Senior in an effort to highlight the class of 2020 within the 92127 community. This is a small effort to say we support the senior class of 2020 and although there were many events that were cancelled this year you have so much to look forward to as you get ready to begin your next chapter in college. We can't wait to see what you do next!

Short Essay Contest
Winner: One (1) $2,020 Scholarship awarded to a student going on to a 4-year college or university, community college, or a trade or technical school.
Deadline for Submitting Applications: June 15th APPLICATION PROCEDURE:

1. Students applying for Schwarz Realty Group Scholarship must complete the application form.
2. Students must write a short essay of no more than 350 words authentically written, in response to the following question:
Essay prompt:
· Mahatma Gandhi said "you must be the change you wish to see in the world." What is the single most significant impact you have brought to a community and what motivated you?
3. The winner must agree to a feature in the Schwarz Realty Group Community newsletter as well as appear in a short video receiving the award. The video will appear locally as well as on AriannaSchwarz.com.
Incomplete applications will not be accepted. The application and essay should be sent all at the same time in one email message in

PDF format

when possible.